Bloooperman
Bloooperman is one of the most famous superheroes in the Tortoise Islands. He has been immortalised far and wide via the best-selling comics that pay tribute to the legend, the incredible legend of the Man with the Seventh Sense.
He makes frequent appearances wherever crime is being committed across the islands – and indeed in nations across the world. However, the details of his history leave many to question whether he should be allowed to continue his operations. In fact, more than 50 countries currently deny him visa entry which means that on occasion, in pursuit of criminals, Bloooperman himself must defy the law.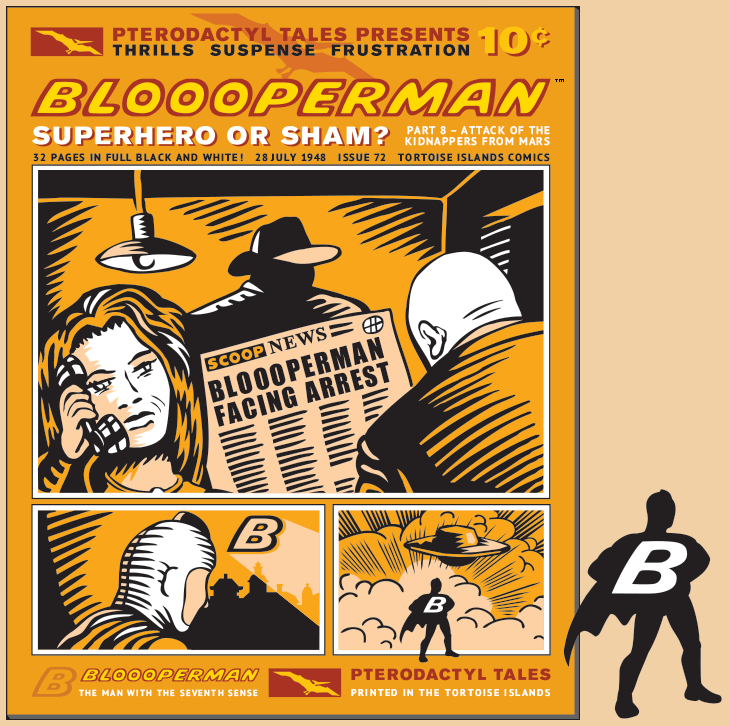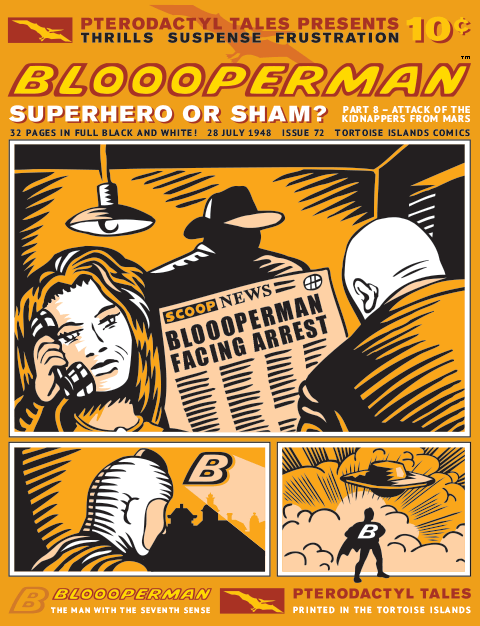 Bloooperman is widely considered to be the world's most controversial superhero.
Is he the solution to crime? Regrettably, the considered answer has to be "no". Too many times his interventions, however well-meaning, have ended in disaster. Too many times, his actions have made things worse – turning misfortune into setback and setback to catastrophe.
The recent adventure at the Antiquities Museum is a case in point. While Bloooperman could arguably be said to have helped thwart the attempted heist – the bandits were after all captured in a dramatic shootout that heavily involved Bloooperman inside the museum – the gunfire that destroyed a priceless Ming Dynasty vase has been directly blamed on Bloooperman.
How many apologies can after all be made for all the collateral damage? Just how many bloopers can be forgiven in the final analysis? Is the price of justice more costly than the crime? Who is gonna pay the bill? Can Bloooperman possibly continue his ill-fated trajectory?